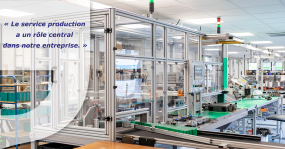 What is the role of TECSUP production department?
The production department has a central role in the company. It masters proven know-how to manufacture in small and medium series all the products and systems designed, produced and marketed by TECSUP. Our customers appreciate TECSUP for its design strength but also thanks to the support in the industrial realization of its projects through the manufacture of products in small and medium series. An essential global offer to succeed in our joint projects by mastering the technique, quality and agility required.

How is the service organized?
The production department is integrated into the industrialization process which articulates the production workshop, scheduling, methods, assembly and test tools and production support. Today the staff of the service is made up of 10 employees and the workshop is in constant progress because the demand is growing. The industrial tool must adapt to all products. Our assembly lines, assembly and test stations have a flexible configuration that allows us to manage the production and controls of more than 800 product references. We are consolidating industrialization by optimizing the management of flows and assembly ranges as well as enhanced control of the industrial tool. We create or adapt our means of production according to the specificities required by each product. This consolidation enables gains in industrial performance and irreproachable quality assurance. Our strategy aims to further develop the productive capacity of our workshop, while maintaining its flexibility, in order to manage the production of small and medium series of an ever wider range and with optimal responsiveness.
Your background at TECSUP?
I arrived at TECSUP in 2012, as an account manager in the Design Office, then I moved on to the position of quality and industrialization manager in 2015. I built my team of technicians as I went along. My days are very rich whether on a human or intellectual level: team management, innovation, continuous improvement of processes, industrialization of new products, exploitation of ERP, management of manufacturing methods, reflection on assembly tools and tests, etc.

A project of which you are particularly proud?
The establishment of the semi-automatic battery production line in 2019 was a very interesting and large-scale project. We have drawn up specifications to manufacture our lithium batteries by automating repetitive operations as much as possible with the objective of a minimum rate of 10,650 cells integrated into batteries/week. We worked with a designer partner for special machines, then we carried out the adjustments on a first model of batteries and the installation in our new premises. Since then, we have adapted the line for new battery references and we have modified a battery design. Knowing that the line was designed according to the same principle of flexibility as all TECSUP tools, its adaptation involves the design and production of installation and positioning jigs, and programming. The line can also accommodate new workstations, which was the case for a new product. The semi-automatic manufacturing line had to follow and it followed perfectly!

TECSUP in few words ?
Innovative, versatile, responsive.
Interview with Luc, Production manager