With over 3000 self-contained energy systems in operation, TECSUP is present wherever the electrical autonomy of equipment is a major concern.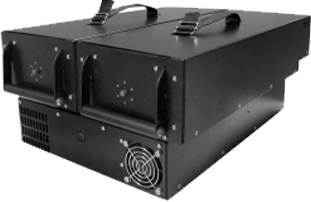 Easy installation
In the form of integrated components or boxes, TECSUP self-contained energy systems can be easily installed in all your equipment
Computer consoles
Instrument racks
Nursing trolleys
Refrigerated trolleys
Cleaning carts
Industrial trucks
Service trolleys
Radio communication units
Mobile terminals
etc.
Benefits
Powerful
from 150 to 1000 Wh (and higher by adding additional systems), with or without inverter (up to 1500 W max.); custom design possible
Lightweight and compact design
the weight and dimensions are optimised based on the power required by the equipment, the space available and the context of use.
Practical
multiple output voltages (24 VDC, 20 VDC, 12 VDC, 5 VDC, 230 VAC Pure Sinus), design to the need (board, box, case), easy handling (integration, fastening, mounting, transport), easy supervision (operating ergonomics, load indicators, alert function, etc.), interfacing with client IS possible via GSM, Wi-Fi, USB, Bluetooth, Cloud.
Rugged
anti-shock design, electronic protection (short circuit, deep discharge, etc.), regulatory compliance, 3-year warranty (excluding battery), 1-5-year battery warranty (or longer) depending on the type of battery and its intended use.