TECSUP combines its expertise in energy conversion, storage, interfacing and control to provide you with a complete, integrated and autonomous solution.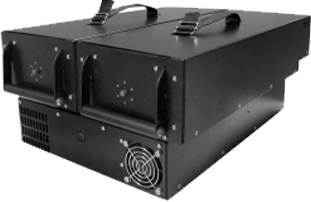 Autonomous energy boxes
Depending on your technical and economic constraints and the power supply needs of your equipment (IT, industrial device, etc.), TECSUP offers you closed Autonomous Energy Boxes, installed in a fixed position on a fixed or mobile support.
TECSUP offers you its Autonomous Energy Boxes. The function of these systems is to supply electrical energy to consumers placed on trolleys or rolling desks.
Autonomous Energy Boxes are designed and developed to supply electrical energy, autonomously, to consumers on board mobile consoles in very different environments and applications:
The consumers most commonly made autonomous by Energy Boxes are: laptops, printers, terminals, screens, scanners, motors, sensors, etc.
All our Autonomous Energy Boxes meet the CE standards in force, and do not require any electrical accreditation from the installer or the user.
Autonomous Energy Boxes are equipped with protection against deep battery discharges to guarantee a greater number of operating cycles and therefore an optimized lifespan of the batteries.
They are also equipped with visual operating indicators for the output voltages, battery charge indicator and visual and/or audible warning device for battery discharge protection.
Advantages
The choice of a Autonomous Energy Boxes is made according to many criteria:
Electrical power of consumers.
Autonomy.
Number of cycles.
Clutter.
Weight.
Environment.
Budget.
Etc.
Turnkey solutions
Advice and expertise in the field of energy conversion and storage (battery).
Hot line for remote technical support.
Parts and labor warranty for the complete solution.
Quick support in the event of an after-sales service return.