Combining electrical power and autonomy, mobility and ruggedness, TECSUP's self-contained energy cases provide the necessary power to operate electrical devices anywhere during mobile interventions.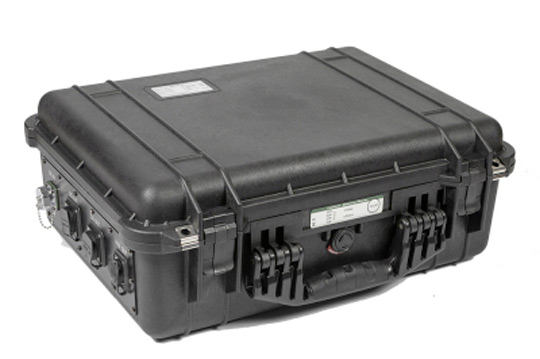 Mobile use
Available in a rugged case design, particularly appreciated for mobile interventions, the self-contained energy systems can be used anywhere, including in the most hostile environments or areas difficult to access

Confined spaces
tunnels, industrial smoke stacks, etc.

Humid areas
outdoor job sites, military operating zones, etc.

Isolated areas
desert, high altitudes, etc.)

Others
Mobile intervention
Powerful
From 150 to 1000 Wh of energy (and beyond by adding several systems), without or with inverter (up to 4000W maximum power), possibility of custom sizing.
Convenient
Multiple output voltages (24 VDC, 20 VDC, 12 VDC, 5 VDC, 230 VAC pure sine), design adapted to needs (plate, box, case), easy handling (integration, hanging, fixing, transport), easy supervision ( control ergonomics, load indicators, alert function, etc., possible interfacing with client IS via GSM, WIFI, USB, Bluetooth, Cloud.
Robust
Anti-shock design, electronic protections (short-circuit, deep discharge, etc.),
Regulatory compliance, 3-year warranty (excluding battery),
Battery warranty 1 to 5 years (or even longer) depending on the type of battery and the use made of it
Light and compact
The weight and dimensions are optimized according to the electrical power required by the equipment, the available space and the context of use. Example: 275 Wh 3 kg case easy to carry over the shoulder or in a backpack.
Multiple charging possibilities
The systems can be recharged from any electrical source: mains, generator, cigarette lighter, photovoltaic panel, etc. Depending on the model, allow 6 to 8 hours for a full recharge.