For interventions that demand an autonomous, mobile and powerful light, TECSUP has innovated and created the Baby case.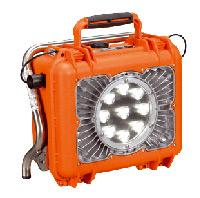 Mobile autonomous lighting case
Portable, waterproof, compact and rechargeable (integrated charger),
the self-contained Baby lighting case offers a powerful LED light of 3500 lumens – equivalent to a halogen of 600w – for a reduced power consumption of 30w.
The BABY lighting cases integrate the very best lighting technology (LED) and energy storage (Lithium LiFePo4) in a compact, light and waterproof design.
Issued from a TECSUP development orientated around ponctual mobile lighting, the BABY lamps
offer technical and functional performances optimized for the most demanding applications :
military, emergency services, industries…
Equiped with 3 lines of 9 latest generation high powered LEDs (CREE 139 lumens/W), the Baby
light distributes a powerful and constant quality of light, whatever the environment in which it is used.
Available with different optics (16°, 26°, 37°, 43×16°), it gives off a light adapted to every
application. The user can alter the power of the light by simple successive pressions on the
Power selector button.
Thanks to its rotatable innovative stand, Baby rotates vertically from -30° to +90° and can be
installed on a variety of accessories (tripods, magnetic mountings, suction pads…).
Protected against power surges, short-circuits deep discharges, the Baby lighting case is totally waterproof (IP65), resistant to falls from a meter high, is certified EU and is guaranteed 3 years.

Multiple possibilities for recharging
Thanks to its integrated charger, BABY can be recharged from any mains power voltage from
90VAC to 260VAC (power cable inside case lid).
BABY also has a cigarette lighter power connection for the needs of nomad clients who are frequently on the move (security agents, maintenance agents, emergency services…). The BABY case can remain in the vehicle, plugged into the cigarette lighter, recharging automatically
or maintaining the charge perfectly.
BABY can also be recharged via a solar panel (integrated socket). A high tech supple, foldable photovoltaic solar panel CGIS 12V/30Wc, 0.85m2 unfolded, is proposed on option. Perfectly integrated to BABY, it only weighs 800grs and is homologated for military applications.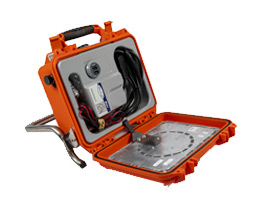 Your lighting need