Do you occasionally and more or less frequently need controlled electrical energy, available everywhere and adapted to the consumption of your equipment (IT, pump, lighting, etc.)?
TECSUP combines its expertise (energy conversion, storage, interfacing and control) to bring you a complete, integrated, autonomous solution, adjusted to your needs. Its design office has devoted 3000 hours to the development of this model, each component and assembly has been the subject of studies and severe controls to guarantee optimal performance.
The autonomous energy system accumulates electrical energy in a battery and later restores it for the user's identified needs.
Main features
Based on customer needs, they are specific to each project.
Power supply: 230 V alternating, 24 V direct…
Battery life: 3h, 1 day…
Current delivered: 230 V alternating, 36 V regulated, 19 V direct …
Number of outputs: 1, 3 …
Desired mobility :

Portable system: closed suitcase, intended to be constantly moved, portable (handle) or movable (wheel).
Transportable system: closed box, installed in a fixed position on a fixed or mobile support.
Fixed system: open plate on which the system is fixed.
Variable parameters
Choices co-determined with the client and optimized during the study phase.
Number of cycles.
Loading time.
Dimension.
Weight.
Battery technology: sealed lead (AGM, Gel), Lithium-ion (LiFePo4).
Environment: temperature, IP sealing…
Connectivity.
Schematic diagram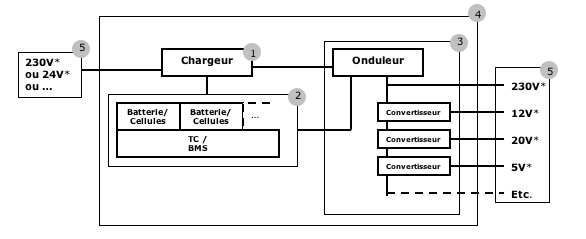 Charger
Battery(ies). Choose your battery wisely.
Inverter, converters
Cabinet, suitcase, box, turntable
Connectivity, HMI
*Values ​​provided as an example.
Examples of solutions from this model
O.E.M. Power Cabinets
Autonomous energy boards

Installation without technical knowledge or special tools.
No electrical certification required for installer or user.
Battery protections, DOD.
Compliance with specific safety standards, tests and approvals.
TECSUP is responsible for the product, both on the functional, normative and safety levels. Single point of contact.