Expert in autonomous energy systems, TECSUP combines its expertise (energy storage, energy conversion, interfacing and control) to offer high-performance solutions for the electrification of rolling desks.
Autonomous energy boxes on board rolling desks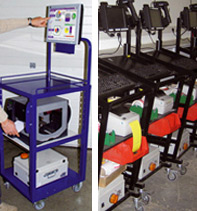 Thanks to constant attention to market needs and a constant capacity for innovation, TECSUP has responded to the specific needs of the mobile computing and industrial logistics sector by developing a complete range of Autonomous Energy Boxes, can be integrated into consoles, trolleys and mobile service units.
These boxes allow the user to benefit from complete autonomy of use, in accordance with specifications and to supply various consumers (PC, printer, weigher, scanner, terminal, etc.) with various stabilized voltages ( 230VAC, 12VDC, 24VDC, 5VDC, 20VDC, 9VDC, 15VDC…).
At the end of the day, the user connects the box to the mains; the box automatically recharges for the next work cycle.
Available in the Catalog, these boxes are based on the autonomous energy system model developed by TECSUP and can be offered in a customized O.E.M. according to your specifications.
TECSUP offers converters adapted to your applications.
» 24 VAC / 19 VDC step-down converter. Transforms 24 VAC voltage into stabilized 19 VDC, to provide optimized power to your mobile computing equipment.