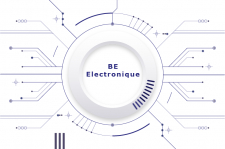 Our design office intervenes very early on in Customer projects, from the product design phase to define and optimize the technical choices. Its two electronic and mechanical departments combine their skills to carry out studies, design, prototyping and software development.
Permanent interactivity
The Design Office works in close collaboration with the commercial and production departments, within the framework of R&D programs and to upgrade existing products. The permanent dialogue between the technical pole and the commercial pole is at the heart of the creative capacity of the company, it guides the technological and strategic choices which drive our dynamic of innovation.
Our design office also works directly alongside client teams to co-define or optimize their specifications and design solutions that are perfectly adjusted to the specifications, environments and conditions of use of each application.
Improving energy efficiency: a daily task
Each product is thought out, developed and designed with energy efficiency in mind. The objective is to obtain the best possible performance to optimize the autonomy of the products. Each electronic development carried out and each component selected, in particular the processors, meet high requirements for low power consumption combined with criteria of miniaturization, lightness, reliability and safety. Putting our experience, our proven nomenclatures and our regular monitoring into perspective contributes to the effectiveness of each technical choice, from the start of the project.
What place for the BMS?
The BMS (Battery Management System) is the heart and brain of all our lithium batteries, it manages, protects and communicates with the application and the outside world.
Developing good BMS requires a fine knowledge of hardware and software which is consolidated over time and projects, this allows us to optimize the longevity of our batteries and this in complete safety.
Tecsup has been able to capitalize on real expertise and has introduced it into its BMS, using the best electronic circuits on the market associated with its supervision software, all developed and industrialized according to the rules of the art and the latest standards.
High responsiveness
Technical expertise combined with mastery of industrialization and manufacturing guarantees high responsiveness right from the study phase and streamlined industrial solutions. Indeed, we are able to produce complex prototypes in a few months thanks to our experience, our equipment (software, measurement laboratory, test benches, etc.) and our organization, which allows direct interactions between engineering and production. All our products are modeled in 3D to ensure perfect integration of all electrical elements.
Nicolas, Head of the electronic Design Office, tells us his story at TECSUP:
« I arrived at TECSUP in 2015 as an electronics development manager. In 2019, following the retirement of the former Technical Director, I took responsibility for the electronics department of the design office. What I like most about my job: the variety of tasks, projects, the freedom of technical choices. Creativity is present every day! At TECSUP, relations between employees and management are very simple, direct and open. Everyone knows each other. I particularly appreciate the Friday meeting when we all get together, it is an important moment of conviviality which contributes to the unity of all. »